Like our recent PlusKit release this new version of FAQMaker is part of plan to update the LogHound plugin suite for RapidWeaver 7.
What's new?
A complete overhaul of the FAQMaker UI.
A few RapidWeaver 7 specific bugs were fixed.
A new simpler registration system for new users.
A bunch of bug fixes too.
User Interface Updates
Some of the LogHound plugins had interfaces that were designed for older versions of RapidWeaver which has made them harder to use on recent versions. The FAQMaker v2 settings panel had a tab-bar that was a bit scrunched. We've combined, slimmed, and tweaked that tab-bar (and many other things) to make FAQMaker look great and work well in today's RapidWeaver (and the soon-to-be RapidWeaver too!!!)
Before and After
Updating a mature app is a unique challenge. Our goal was to simplify, streamline and make things fit a bit better with modern Mac OS X. But this all must be done without adding or removing features.
Here's a before and after of one of the settings pannels. We've consolidated a few tabs, removed the hierarchical tab-pane, and used the whitespace to add some clarifying groupings. What do you think? Better?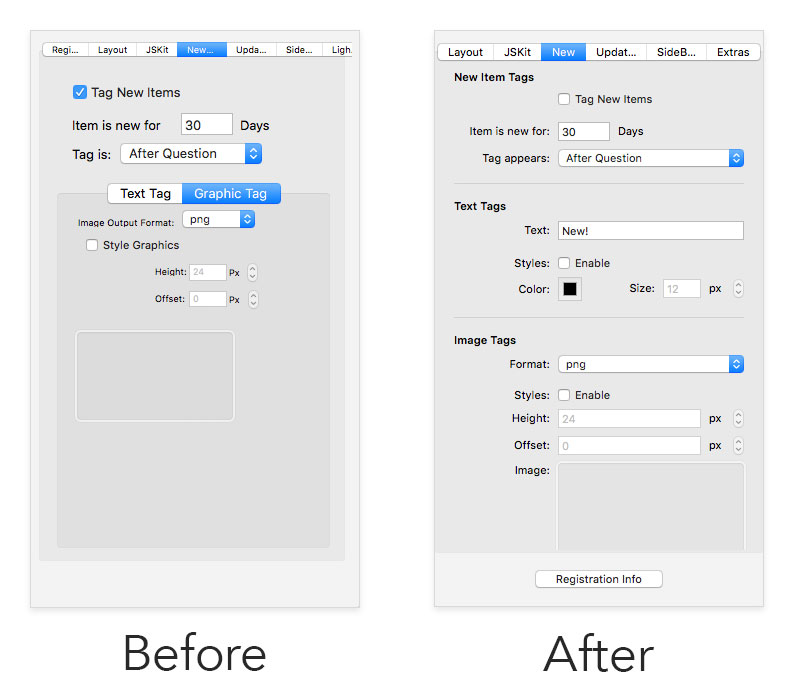 ---
How to Install
Double-Click the file to unzip it.
Double-Click the plugin to install it.
Quit and then restart RapidWeaver.
Enjoy!
System Requirements
Stacks for RapidWeaver 6: Mac OS X 10.9