Stack's 3 is the biggest upgrade yet and it's coming next week. There's so many new things to tell you about: major new features, a new design, new stacks, and tons more. There's too much for one blog post, so when you're done reading about it, download the beta and give it a try today:
Partials

Partials are a new way to build pages from modular components shared across all your whole site. The description doesn't do it justice though, it's best to see it in action. Check out this video we made about partials. It walks through a basic example to show you how this powerful new tool will save you a ton of time.
Customizable User Interface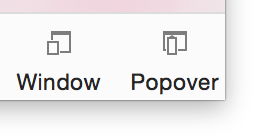 Stacks is used on huge iMac displays, tiny new MacBooks, and everything in between. So we rebuilt the interface to be flexible enough to adapt: everything in a single window, make space with floating tool pallets, or popovers that automatically hide -- or quickly switch -- it's up to you.
Fast New Library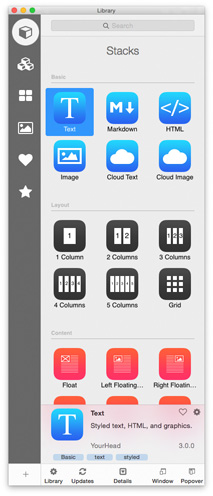 The new library has been streamlined for super speed. Even if you have hundreds of stacks installed you can scroll at blazing speed, search instantly, and customize to your heart's content: change the size of icons, how they're sorted, how they're grouped, and more.
Plus build your own custom groups to streamline your workflow.
Responsive Content
All the the built in stacks now support responsive layout by default: resizing images, stackable columns, and much more. Plus any stack or group of stacks can be hidden on specific platforms with one click -- no coding, no CSS, no crazy media queries. Stacks takes care of all the technical details for you.
So much more
There's way too many other things to mention, but here are a few of the really good things:
Markdown is now a first-class citizen. Use it anywhere that you would normally use a Text stack.
All new faster, and much simpler 3rd-party stack updates.
Streamlined info panel with grouped controls and graphical buttons (with lots of new controls for 3rd party developers too!).
HTML publishing options to switch between denser output or more readable.
Choose to publish local Javascript libraries like jQuery or to include them from a CDN.
Tons more customization options and preferences.
An new developer console with syntax highlighted code output to help stack developers quickly and easily build stacks.
Dozens of new API features all documented in the new Stacks API site.