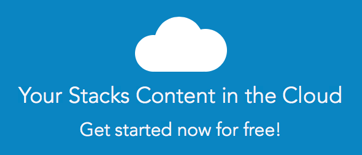 Easily manage your content with Stacks Cloud.
Create and store the text and images of your stacks in the Cloud. Edit them in any web browser and your site is updated instantaneously. Easily share with colleagues and clients.
And now you can sign up for a Free Stacks Cloud account so there's no reason to wait.
Share content editing
Stacks Cloud is designed to be used by collaborators. Each member of a team can work individually on their own pages or content, and all the content is accessible to the site designer. Designers and copywriters can work on a site together without having to share files back and forth.
Edit content in any web browser
Stacks Cloud stores your content in the cloud. So you can access your content from any device — Mac or Windows. Use any modern web browser — Safari, Chrome, Explorer, or Firefox. From anywhere in the world. Sharing editable content has never been easier.
More Ways to User Stacks Cloud
Works with 3rd party plugins
You can drag and drop content straight from Stacks Cloud into your Stacks pages. Every text area with any stack, even third-party stacks, can use Stacks Cloud content. So you can use content from Stacks Cloud anywhere and everywhere on your page.